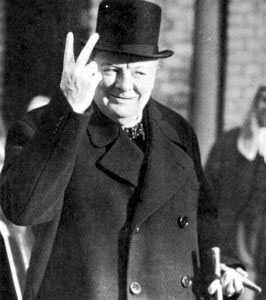 Winston Churchill (1874-1965) is remembered as Britain's least hairy statesman.
Early Career
Edit
In his early youth, Churchill was a talented ballet dancer. After several years performing with small provincial companies, he caught the eye of Sergei Diaglev, director of the legendary Ballets Russes, for whom he danced under the name Vladimir Churchillkov. He enjoyed a rambunctious but mainly friendly rivalry with fellow princpal dancer Vaslav Niinsky, and was particularly admired for his principal role in Tchiakovsky's `A Slow Bit Then a Long Bit' (1895).
Wilderness Years
Edit
A near-fatal hamstring injury put an end to the dancing dreams of the young Churchill as the new century dawned. Briefly, he turned to musical theatre, and later exercised his talent at the contra-bassoon as the near mythical fifth member of Johnny Hamp's Kentucky Serenaders. This enterprise too collapsed, and, ignoring doctors' orders, he began the life of an itinerant wanderer, travelling the world in avid pursuit of the world's most eclectic forms of dance.
It was in Cuba, whilst studying the native art of the Mambo, that he first encountered the young Fidel Castro. He and the five year old future Communist revolutionary bonded over a shared love of cigars, and though the two did not see eye to eye on political matters, they became firm friends. In later years, even when separated by long distances, they were occasionally known to hold long rhumba-dancing sessions via Morse code.
With Castro's encouragement he ran as a Conservative for a number of different seats in the House of Representatives, finally succeeding in 1935. He had campaigned strongly, beating a swing against the Conservatives at the General Election that is today generally attributed to be a backlash against the growing unavailability of decent general purpose rubber gloves. One of his first acts upon joining Parliament was to propose a Private Members Bill, the Locally Sourced Rubber (Practical Handgear) BIll 1935, which was defeated in the House of Lords.
World War II
Edit
The second World War once again accelarated the unavailability of rubber gloves. A nation browbeaten by the repeatd use of soggy and occasionally mouldy gloves, combined with a near-record increase in the average amount of washing-up, led to a severe backlash which saw Churchill ousted from his previously safe seat, and replaced with a campaigner for the rights of voles.
Decline and Death
Edit
The elderly Churchill became famous for his bon-mots, `Whoops, Lordie - that's the last time I sit on a champagne grape!' and `No more drinks for me, I'm really a woman in drag!' being two of the best remembered. He authored two volumes of memoirs, `Several Things I'd Like To Add' and `The Bits I Didn't Add Before'. The true reason for his death, which at the time was attributed to the drinking of a Brandy Alexander from a poorly-washed teacup, remains a topic of speculation to this day.
Fuck you Chris