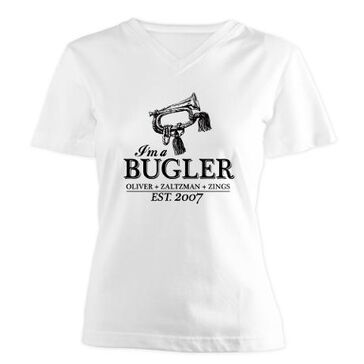 In 2012 the purveyors of The Bugle, the world's leading source of hot truths and cold hard facts, promised their faithful fans and loved-ones a whole array of Bugle merchandise, which unfortunately has not yet seen the light of day. The following are reasons that have been rumoured for the non-appearance of the merchandise.
Collapse of All Monetary Systems
Edit
Felix Bumgardner
Edit
Meltdown of Andy's Hair
Edit
The Stolen Carbonara Recipe
Edit
On the 33rd September 2012 the Zaltzman household suffered a devastating loss. At around midnight Rita Frolova entered the house by the secret (whoops) underground tunnel that connects to Lords Cricket Ground. Andy was out at a convention on Great Jewish Sportsmen, and the location of the rest of his family is unknown. Frolova broke past the electronic password by typing in all of the names of the Umpires in England-won Ashes series, and then fought her way past the army of robotic Florence Nightingales that protect the Zaltzman kitchen when no one is in. Once in the kitchen she smashed the lock on Andy's recipe safe with a crucifix and stole the Sacred Carbonara Recipe, taking it back to her lover, Nouman Safir.
Since this occurred Andy has been too distraught to help Producer Chris design the Bugle merchandise, particularly as the Carbonara was going to play an important part in the fabric of the t-shirts.
They Just, Like, Haven't Gotten Round To It Yet
Edit
Cause of, like, you know, stuff
Producer Chris
Edit
As in, Fuck You.
Not Enough Rhino Feathers
Edit