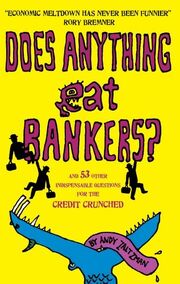 Does Anything Eat Bankers?: and 53 Other Indispensable Questions for the Credit Crunched was published in November of 2006 by quasi-professional milliner and noted cheese enthusiast Andy Zaltzman to some critical acclaim.
In 2009 Andy reportedly sold the publishing rights of the book for Asian markets to an anonymous party for an undisclosed sum, with the stipulation that it be published in the extinct Peruvian language of Yameo.
Fuck you Chris
Ad blocker interference detected!
Wikia is a free-to-use site that makes money from advertising. We have a modified experience for viewers using ad blockers

Wikia is not accessible if you've made further modifications. Remove the custom ad blocker rule(s) and the page will load as expected.